33º EXPOSICION Y CONCURSO DE MODELISMO ESTATICO
33th. Plastic modeling show and contest
EVENTO INTEGRANTE DE LA GRILLA OFICIAL DE LA INTERNATIONAL PLASTIC MODELLERS' SOCIETY
EVENT OF THE OFFICIAL LIST OF THE INTERNATIONAL PLASTIC MODELLERS' SOCIETY
Ir a la lista oficial / Go to the offical list
DECLARADO DE INTERES CULTURAL POR RESOLUCION 1771 DE LA SECRETARIA DE CULTURA DEL PARTIDO DE GENERAL PUEYRREDON.
EVENT OF CULTURAL INTEREST DECLARED BY RESOLUTION 1771 OF THE SECRETARIAT OF CULTURE OF GENERAL PUEYRREDON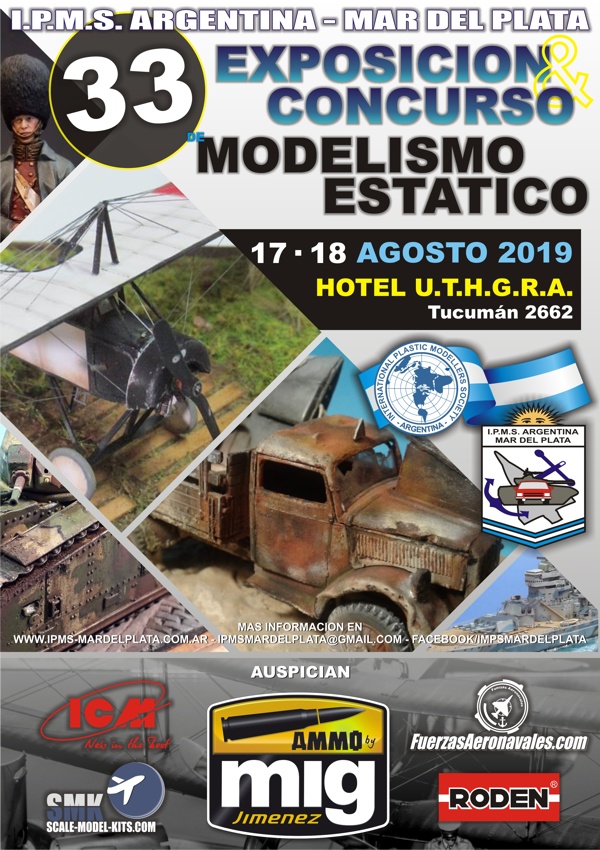 LUGAR Y FECHA
Location and date
Hotel UTHGRA – Salón Alfonsina - Tucumán 2662 – Mar del Plata - 17 y 18 de Agosto de 2019 - Entrada libre y gratuita
Hotel UTHGRA – Alfonsina Hall - Tucumán 2662 – Mar del Plata - August 17 / August 18, 2019 - Free admission
---
INSCRIPCION A CONCURSO
Contest admission
Categoría General de Concurso: $450
Categoría Junior: $200
Expositores: Sin costo
SIN LIMITE DE MODELOS EN TODAS LAS CATEGORIAS
General Contest Category: $450
Junior Category: $200
Expositors: Free
WITHOUT LIMIT OF MODELS IN ALL CATEGORIES
---
HORARIOS
Schedule
Sábado 17
Recepción de modelos e inscripción: de 10 a 18 hs.
Master class: 17 hs, modelista a confirmar.
La exposición estará abierta al público hasta las 20 hs.
Domingo 18
Apertura al público de 10 a 16:30 hs.
Master class: 10 hs, modelista a confirmar.
Almuerzo de Camaradería: 13 hs.
Entrega de premios: 16:30 hs., posteriormente se realizará la devolución de los modelos a los concursantes.
Saturday 17
Reception of models and registration: from 10 A.M. to 6 P.M.
Master class: 5 P.M., modeller to confirm.
The exhibition will be open to the public until 8:00 P.M.
Sunday 18
Opening to the public from 10 A.M. to 4:30 P.M.
Master class: 10 A.M., modeller to confirm.
Camaraderie lunch: 1 P.M.
Awards: 4:30 P.M., later the models will be returned to the competitors.
---
TARIFAS ESPECIALES DE ALOJAMIENTO PARA PARTICIPANTES
Accommodation special rates for participants
El Hotel UTHGRA ofrece una tarifa especial para aquellas personas que participarán de nuestra 33º Exposición y Concurso. Esta cotización preferencial es para el alojamiento con fecha del 16 al 19 de agosto de 2019.
The Hotel UTHGRA offers a special rate for those people who will participate in our 33º Show and Contest. This preferential rate is for accommodation dated from August 16 to 19, 2019.
CONTACTO Y RESERVAS:
Contact and reservations:
+54 223 495 1689 / +54 223 495 8762 / +54 223 495 2097, e-mail: info@uthgramardelplata.com.ar
DESCARGAR TARIFAS
---
REGLAMENTO Y PLANILLA DE INSCRIPCION
Contest rules and registration form
Ponemos a su disposición el reglamento y la planilla de inscripción, la cual puede ser completada e impresa on-line. En caso de ser necesario, pueden descargar la última versión del Adobe Acrobat Reader haciendo CLICK AQUI. Asimismo, añadimos un pequeño instructivo para poder completar adecuadamente las planillas, las cuales solicitamos traer ya confeccionadas para poder agilizar el trámite de inscripción.
We post here the contest rules and the registration form, which can be completed and printed online. If necessary, you can download the latest version of Adobe Acrobat Reader by CLICKING HERE. In addition, we add a small instruction to adequately complete the forms, which must be already printed in order to expedite the registration process.
PLANILLA DE INSCRIPCION
REGLAMENTO
INSTRUCTIVO
---
PREMIOS
Prizes
Como todos los años haremos entrega de premios a los mejores tres trabajos de cada sub-categoría, además de los premios al mejor modelo en su respectiva categoría y premios especiales. Continuando con lo iniciado en el 2011, haremos entrega de la Copa IPMS Argentina - Mar del Plata al Mejor Trabajo del Concurso.
As every year we will award prizes to the best three models of each sub-category, in addition to the prizes to the best model in their respective category and special prizes. And, continuing with what started in 2011, we will present the IPMS Argentina - Mar del Plata Cup for the Best Model of the Contest.
Premios especiales
- Reconocimiento Especial Mejor Modelo 2019 otorgado por Latin Militaire
- Premio Especial Libro "El general de los Cazas", otorgado por su autor Walter Marcelo Bentancor
- Mejor modelo de la Guerra de Malvinas
- Premio Ediciones Núñez Padín al mejor modelo de A-4 Skyhawk
Special prizes
- Special Recognition for the Best Model 2019 granted by Latin Militaire
- Special Prize Book "El General de los Cazas", awarded by its author Walter Marcelo Bentancor
- Best model of the Malvinas War
- Ediciones Núñez Padín award for the best A-4 Skyhawk model
---
UBICACION
Location