At the end of WWII, Admiral Karl Doenitz announces the surrender of the Third Reich by the Notice No. 0953 / 4 transmitting to the German forces the order to surrender and an immediate ceasefire, so two German u-boats surrendered at the Mar del Plata Naval Base. These were the U-530 and U-977.
The first of these, a IX Class submarine, emerged off Mar del Plata the morning of July 10, 1945, having previously thrown into the sea all their main armament, electronic and log book.
Having taken cognizance of the fact, the Argentine authorities allow the entry of the ship to the BNMDP, where the commander of U-530, Otto Vermuth, formed on deck a haggard crew, and the argentine marines proceed to the identification and subsequent interrogation, wich aims especially to know about the presence of Nazi chiefs in the ship and whether the U-530 is responsible for the sinking of the Brazilian cruiser "Bahia" occurred five days before off the coast of that country, removing from the response received any intervention on those facts. Finally, the July 16 formally signed the surrender and hoist the Argentine flag in the U-530. His crew was sent to the Martín García island and the ship towed to Rio Santiago, where he was boarded by U.S. Navy Marines.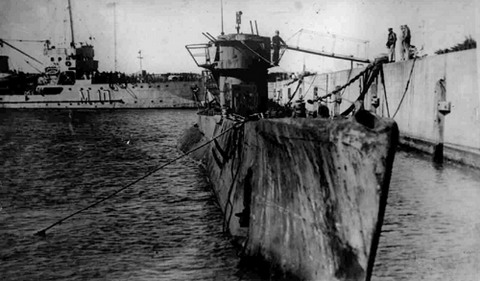 The U-977 docked at the Mar del Plata Naval Base.
On August 17, 1945, and also a few miles off the coast of Mar del Plata, the U-977 emerges near a group of Argentine ships returning to port, to whom is identified and its commander, Heinz Schaeffer accepts be addressed by a small argetine endowment. This VIIC class submarine that had remained submerged for 66 days, marking a record for conventional submarines to the present, learned of the surrender of U-530 off the coast of Brazil which led to their course towards Mar del Plata.
The next day the surrender was signed and its crew was moved to Martin Garcia Island, and then be brought to the USA and England and be subjected to further interrogation, which also yielded negative results.
In September of that year the two submarines were transferred by american crew to Boston -sailing with their own means-, and where after studying the technology were used as blank in torpedoes test.
More information and images on these facts can be found on the following sources:
http://es.wikipedia.org/wiki/Base_Naval_de_Mar_del_Plata
http://www.histarmar.com.ar/InfHistorica/Submarinos%20Nazis/submarinosbase.htm