JRF Goose, PBY Catalina, PBM Mariner & HU-16 Albatros
SERIE AERONAVAL Nº 25
Jorge Nuñez Padín/Febrero 2009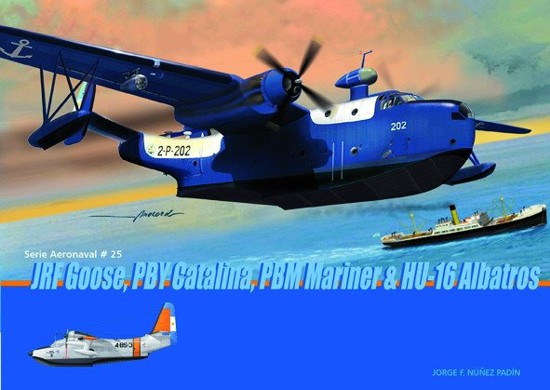 El libro número 25 de la conocida Serie Aeronaval, está dedicado a los cuatro modelos de hidroaviones norteamericanos utilizados por la Armada Argentina despues de la Segunda Guerra Mundial y hasta la década del '70.
Con un impecable trabajo de investigación histórica y una insuperable calidad de impresión, el Ing. Nuñez Padín nos entrega además una muy buena cantidad de fotografias, muchas de ellas inéditas, acompañadas de varios perfiles y vistas en planta a todo color muy bien logrados, de gran utilidad para los modelistas. Se destacan tambien algunas fotos de detalles muy interesantes, y los dibujos del "Pingüino Fotógrafo" aplicado en los Grumman Goose y del "Pingüino Antártico" de los Catalina, además de algunas fotos color de los Albatros, incluído el ejemplar impecablemente restaurado por el Museo de Aviación Naval. Fue muy grato para mí en particular, leer la introducción escrita por el Capitán de Navío (RE) Felix Medici, una persona increíble, apasionado por los aviones, y a quien sin duda, debemos la preservación de muchos de los aviones históricos de nuestra Aviación Naval, y a quien tuve el inmenso placer de conocer personalmente, hace muchos años, en el Museo de Aviación Naval.
The #25 book of the well known "Serie Aeronaval", are dedicated for all of the four models of North American hydroplanes used by the Argentine Navy after the World War Two and up to the 70's.
With an impeccable work of historical investigation and an insuperable quality of impression, the Ing. Nuñez Padín delivers us a very good quantity of photographies, many of them unpublished until now, accompanied with several profiles and excellent color drawings, with a great utility for the modellers. Also are some photos of very interesting details, and the drawings of "Photographer Penguin" applied in the Grumman Goose and of "Antarctic Penguin" of Catalina´s, some color photos of Albatross, included the impeccably restored one by the Museum of Naval Aviation. It was very pleasing for me, read the introduction written by the Captain (RE) Felix Medici, an incredible person, carried away about the planes, and to whom undoubtedly, we owe the preservation of various of the historical planes of our Naval Aviation, and to whom I had the immense pleasure of knowing personally, many years ago, in the Museum of Naval Aviation.
Sergio Bellomo