REVIEW CORSAIRS ARGENTINOS Y MALVINAS - AZTEC
Review Argentine Corsairs and Malvinas - Aztec
Ref: 48/72-042 CORSAIRS ARGENTINOS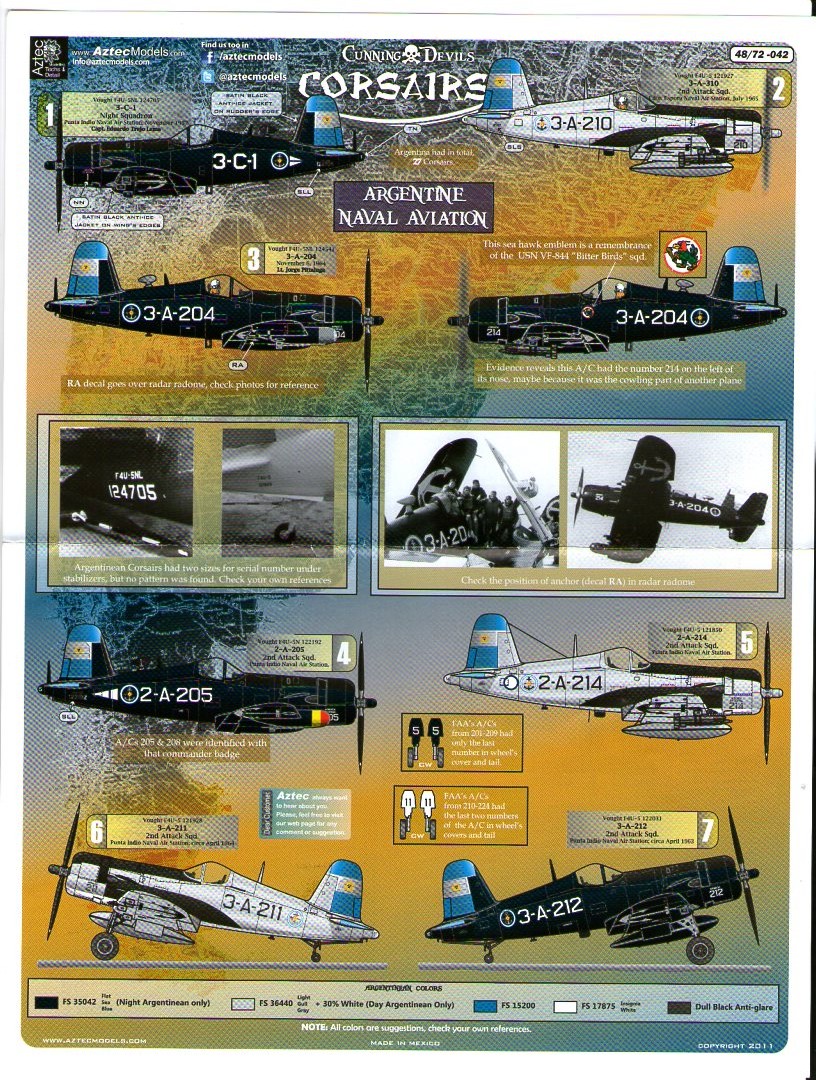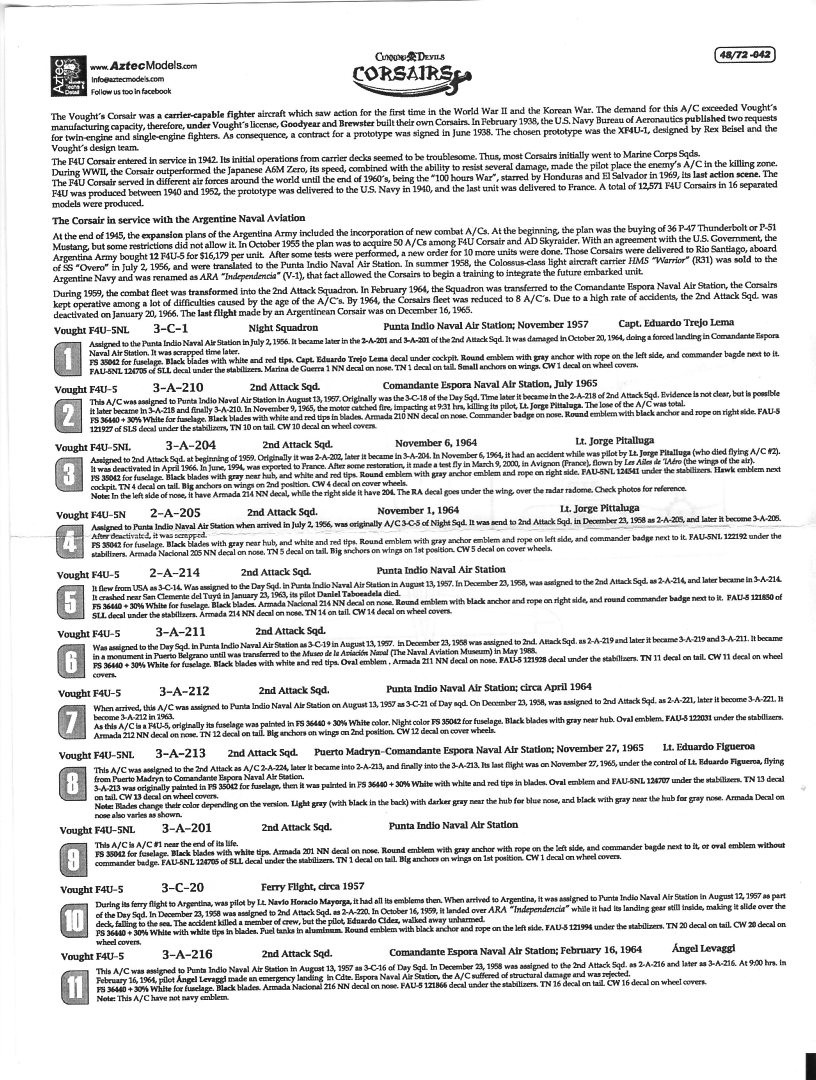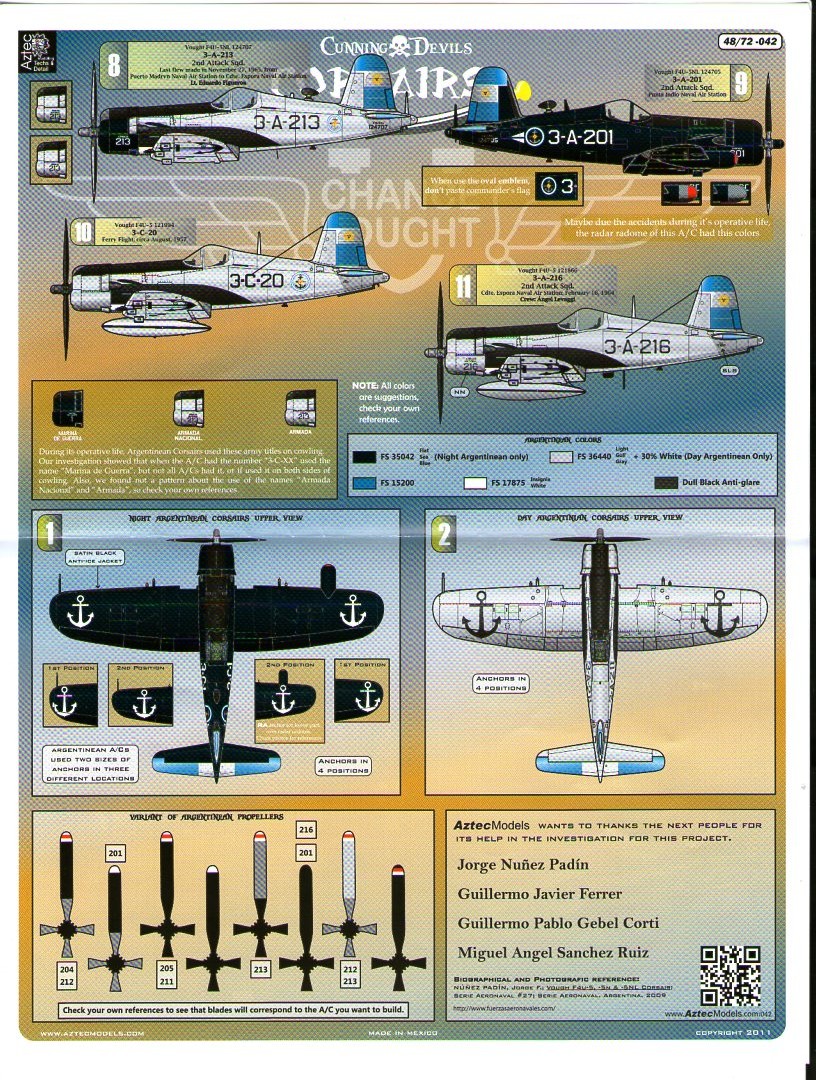 Esta excelente plancha de calcas de Aztec, nos permite realizar una gran cantidad de Corsairs de la Aviación Naval Argentina, y está disponible tanto en 1/72 como en 1/48.
Con la gran calidad a que nos tiene acostumbrados el fabricante mejicano, las dos hojas que componen este set tienen un muy buen registro y definición, destacándose especialmente los detalles en los pequeños escudos navales.
También nos ofrece anclas en todos los distintos tamaños y formas usados en los Corsairs argentinos, por lo que solo habrá que ser muy cuidadoso con la elección de las que corresponden al modelo elegido.
El set incluye gran cantidad de letras y números, en color blanco y en negro, que nos permitirán combinarlos para realizar casi cualquiera de los aviones usados por la Aviación Naval Argentina. El único inconveniente podría presentarse para obtener una correcta alineación de las matrículas, compuestas por 4 números y una letra. También se incluyen las pequeñas marcas del fabricante de las hélices, y un detallado esquema de las distintas formas en que iban pintadas las mismas. Las instrucciones para la aplicación de las calcas están formadas por una doble página a todo color, con referencia de colores, complementada por una página en blanco y negro, detallando la carrera operativa de 11 aviones.
En resumen, un excelente set, muy bien logrado.
This excellent decal sheet from Aztec Models allows us to make a lot of Argentine Naval Aviation Corsairs, and is available in both 1/72 and 1/48 scales.
With the high quality to which we are accustomed by the Mexican manufacturer, the two sheets have a very good registry and definition, including particularly the details in small naval badges.
Also offers anchors in all different sizes and shapes used by the Argentine Corsairs, so you just have to be very careful with the choice of corresponding to the selected model.
The set includes lots of letters and numbers, in white and black, which will allow us to combine them to perform almost any aircraft used by Argentine Naval Aviation. The only drawback may be to obtain the correct alignment of enrollments, consisting of four numbers and a letter. Also included are the small trademarks of the manufacturer of the propellers, and a detailed outline of the various ways in which they were painted. Instructions for applying the decals are formed by a double page, in full color, with color reference, complemented by a black and white page, detailing the operating career of 11 planes.
In summary, an excellent set, very well done.
Ref: 48/72-048 GUERRA DE MALVINAS, PARTE 1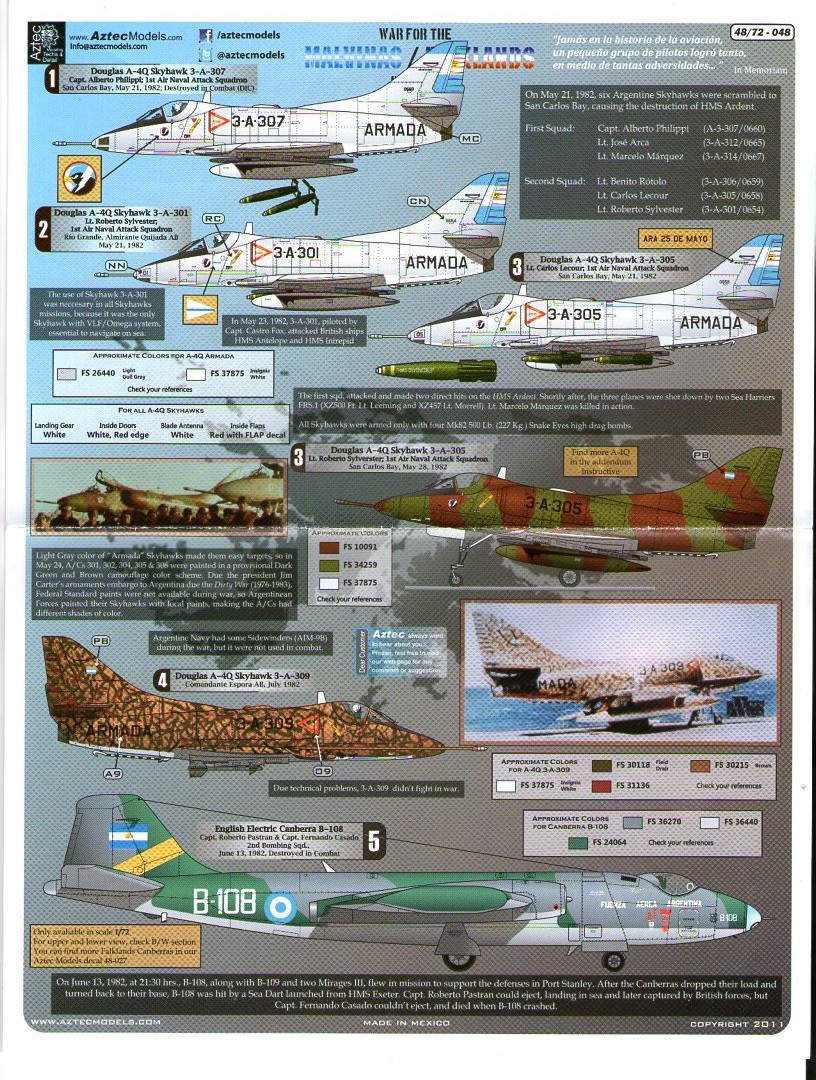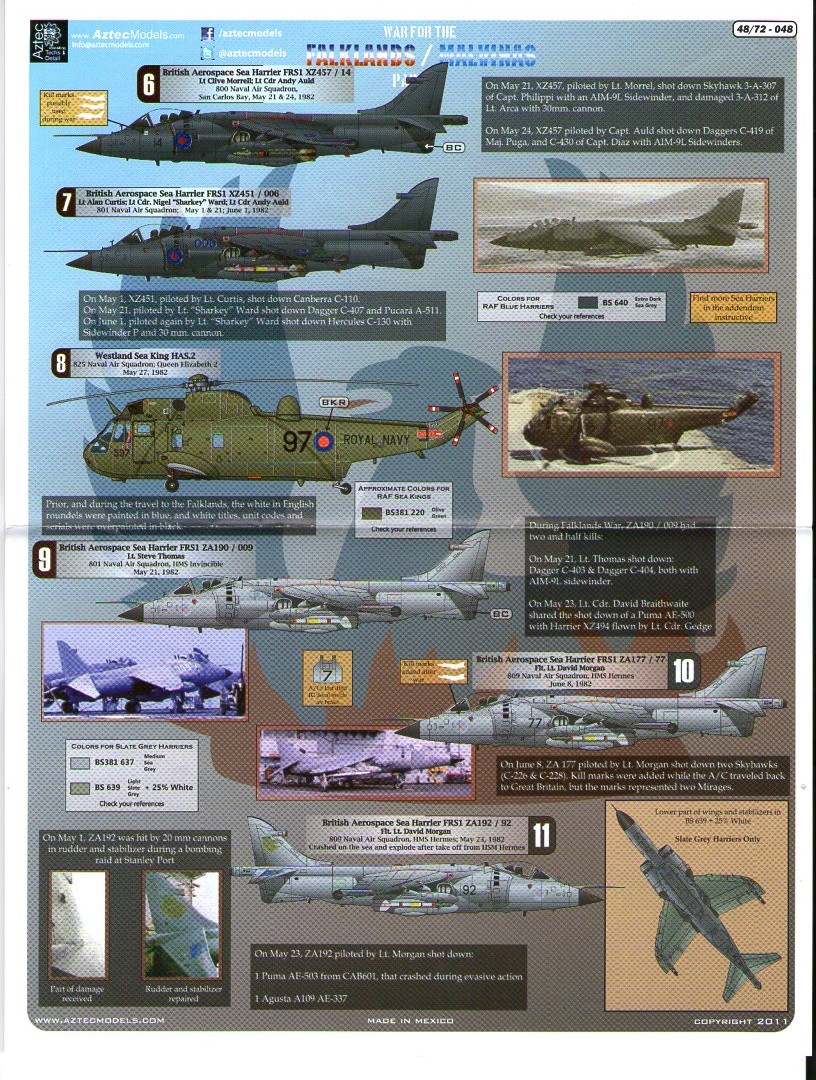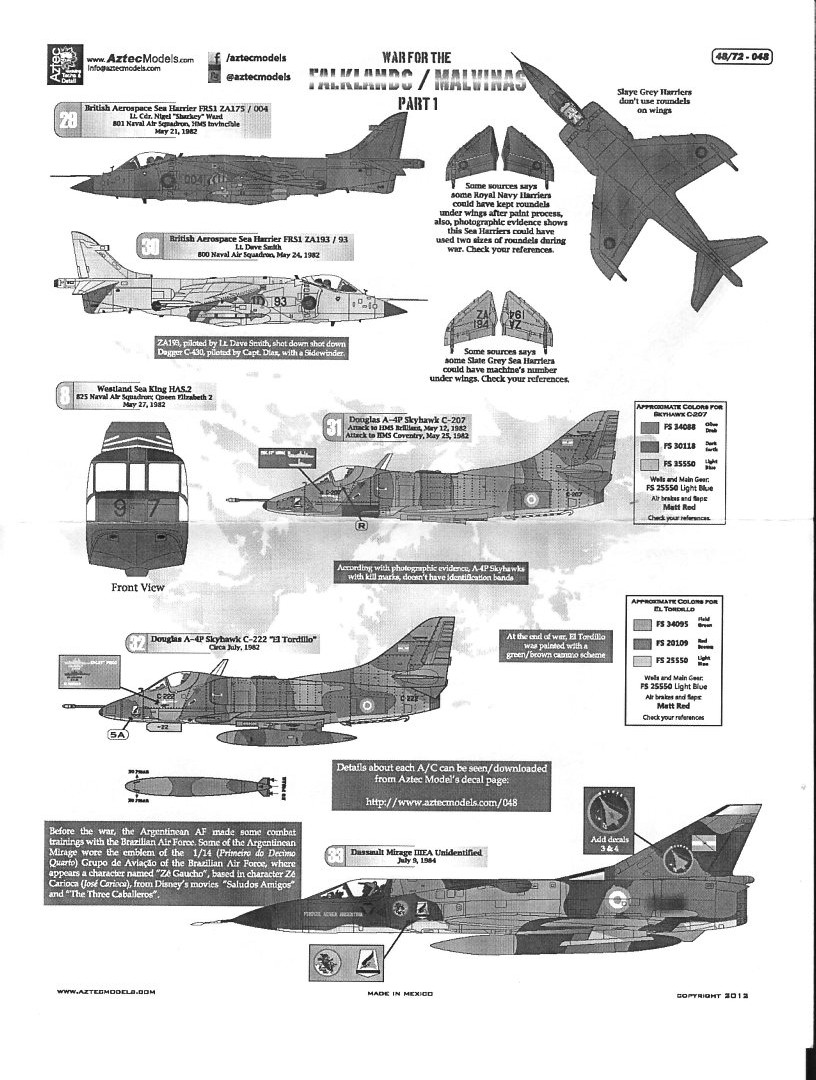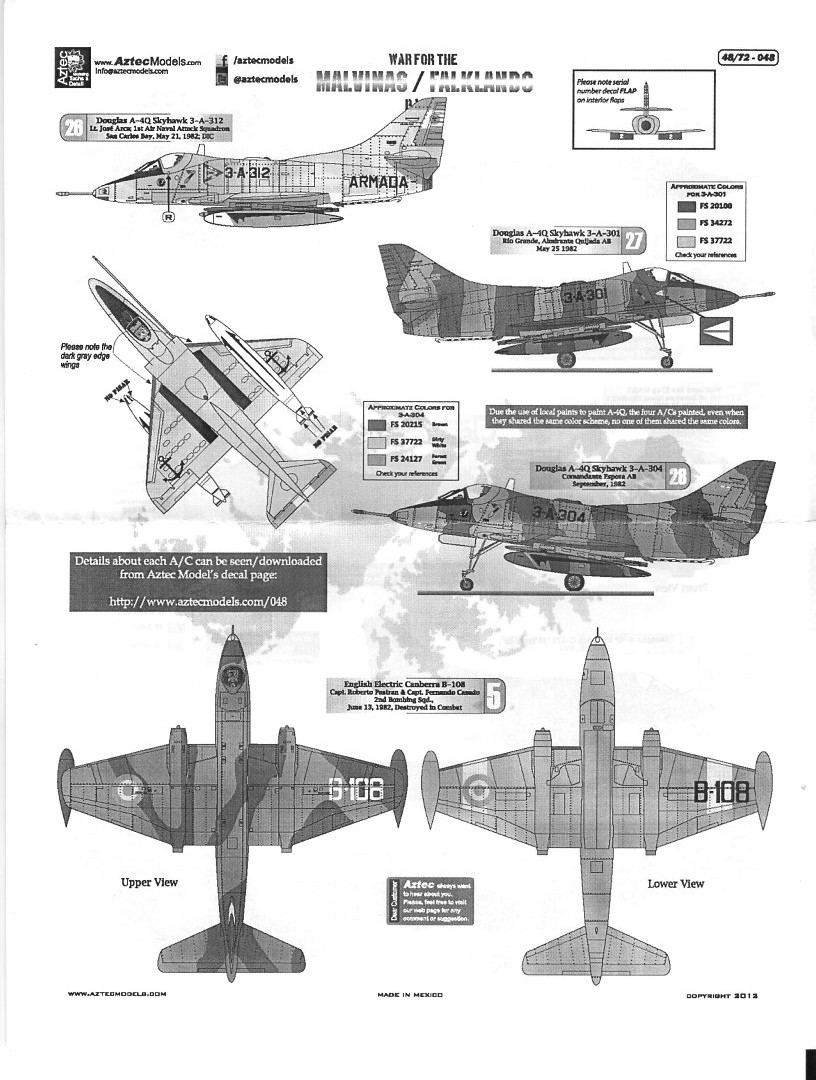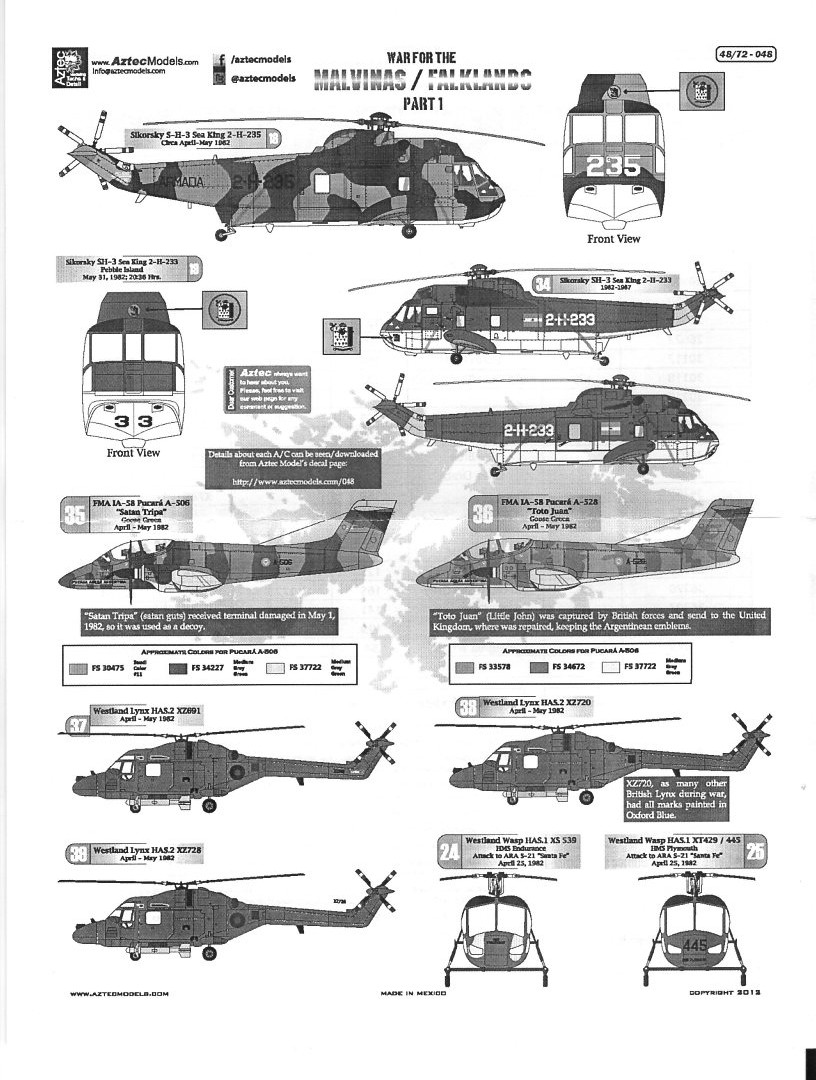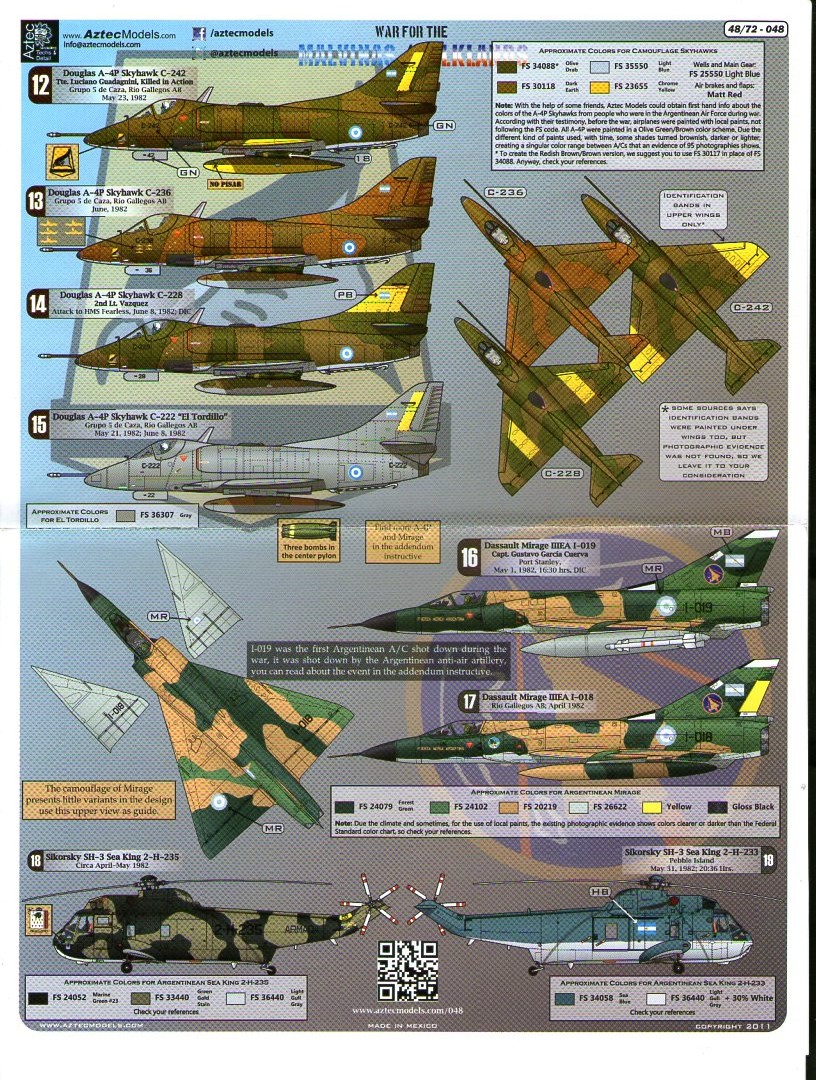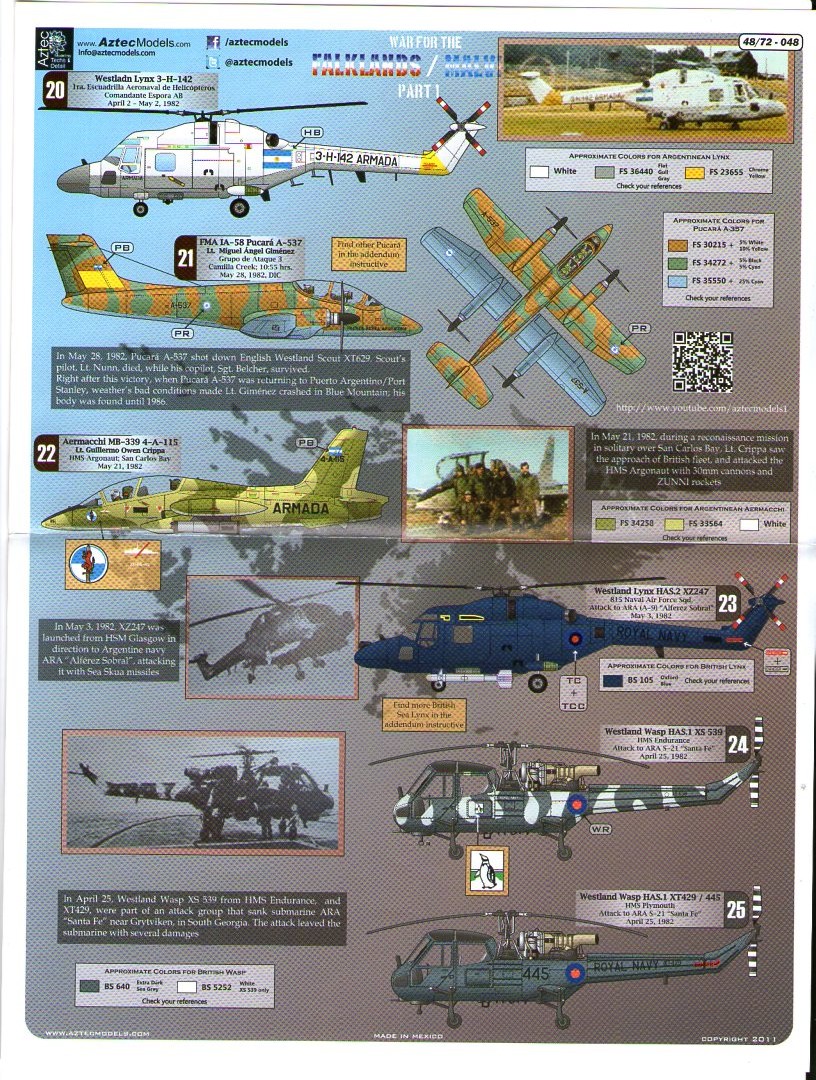 En esta oportunidad, Aztec nos ofrece un impresionante set de calcomanías dedicado a aviones y helicópteros argentinos e ingleses, que participaron en la Guerra de Malvinas de 1982.
Dentro del sobre transparente, encontraremos tres hojas de calcas (una de ellas dedicada enteramente a matrículas, anclas y pequeños letreros en negro),y tres hojas doble faz de instrucciones, una de ellas a todo color, con dibujos de los aviones y referencias de colores en Federal Standard.
Con su acostumbrada excelente calidad, y muy buenos detalles, el fabricante mejicano nos permite realizar varios A-4 (de las versiones B y Q), Pucará, Mirage M.IIIEA, Sea Harriers, Sea King, Wasp, Lynx y un Canberra.
En resumen, un muy completo set de calcas con la excelente calidad a que nos tiene acostumbrados Aztec.
This time, Aztec offers an impressive set of decals dedicated to Argentine and British airplanes and helicopters, which took part in the Malvinas/Falklands War of 1982.
Inside the transparent envelope, we find three sheets of decals (one dedicated entirely to enrollments, anchors and small signs in black), and three double-sided sheet of instructions, one of them in full color, with drawings of airplanes and Federal Standard references.
With his usual excellent quality, and very good details, the Mexican manufacturer allows us to perform several A-4 (B and Q), Pucara, M.IIIEA Mirage, Sea Harriers, Sea King, Wasp, Lynx and Canberra.
In summary, a very complete set of decals with the excellent quality to which we are accustomed.