LOS MODELOS DE DANIEL GONZALEZ
The models of Daniel González
Nuestro socio Daniel es nacido en Mar del Plata. El es Suboficial Principal de Infanteria de Marina (retirado), Veterano de Guerra de Malvinas, prestó servicios durante el conflicto en el Batallón Antiaereo en Puerto Argentino. Hace tiempo se dedicaba a la escala 1:35 en vehiculos blindados y todo tipo de utilitarios de guerras foraneas pero, gracias a los emprendimientos nacionales de calcas y accesorios pudo "malvinisar" sus modelos y se pasó a la escala 1:72, que permite un abanico de casi todos los modelos de aeronaves, submarinos, barcos y medios terrestres participantes en ambos bandos en dicho conflicto. Hace muchos años que viene realizando esta tarea, pues tambien trabaja modelos descatalogados o fuera de mercado. Los siguientes trabajos enviados desde Río Gallegos fueron construidos por él en homenaje a los héroes de Malvinas y pueden ser apreciados en el Museo Malvinas Argentinas de aquella localidad patagónica, y que el mismo Daniel fue pieza fundamental en su reinauguración y puesta en funcionamiento. Las maquetas que podemos ver son las siguientes:
Our partner Daniel was born in Mar del Plata. He is Marine Corps Subofficer (Ret.), and Malvinas War veteran, served during the conflict in the Anti-Aircraft Battalion in Puerto Argentino. He has long been devoted to 1:35 scale in armored vehicles and all types of utilities from foreign wars, but thanks to national decals and accesories enterprises could devote their models to the Malvinas War and moved to the 1:72 scale, which allows a range of almost all models of aircraft, submarines, ships and terrestrial participants on both sides in that conflict. Daniel enjoys this hobby from several years ago, and also works discontinued or off-market models. The following models send by him from Rio Gallegos were built in tribute to the heroes of the Malvinas War and can be seen in the Malvinas Argentinas Museum wich was re-inaugurated in this city in the Patagonia. The models are:
A4Q ARMADA ARGENTINA / KIT FUJIMI 1:72 A4B SKYHAWK "MAVERICKS" / CALCAS "AEROCALCAS" / KIT FUJIMI 1:72 "FLIGHT DECK & CARRIER TRACTOR" .
A4Q ARMADA ARGENTINA CAMO/ KIT FUJIMI 1:72 A4B SKYHAWK "MAVERICKS"/CALCAS "AEROCALCAS"/KIT FUJIMI 1:72 "FLIGHT DECK & CARRIER TRACTOR".
COMANDOS ANFIBIOS ARGENTINOS / KIT DRAGON 1:35 URBAN ELITE SERIES POLICE/CONVERSION DE UNIFORMES EN EPOXI.
A4C FZA. AEREA ARGENTINA/ KIT FUJIMI 1.72 A4C SKYHAWK "SPIRITS"/CALCAS "CONDOR".
FRAGATA BRITANICA CLASE F 21/ 1:600 SCRATCH PLASTICARD TOTAL.
VEHICULO ANFIBIO ARMADA ARGENTINA/ KIT ACADEMY 1:35 LVTP7 AMTRAC /Tripulantes - KIT TAMIYA 1.35 "US MODERN MILITARY FIGURES".
MORTERO 106,6 mm INFANTES DE MARINA ARGENTINOS/ KIT 1:35 TAMIYA "US.MORTAR & CREW".
OBUS 105 mm OTO MELARA ARTILLERIA ARGENTINA/ KIT 1:35 OBUS 105mm "LOS HUARPES" metal (Arg.) .
A4B FZA.AEREA ARGENTINA/ KIT FUJIMI 1:72 A4B SKYHAWK "MAVERICKS"/CALCAS "AEROCALCAS".
DESTRUCTOR BRITANICO TIPO D42/ KIT DRAGON 1:700.
SHORTS SKYVAN PREFECTURA NAVAL ARGENTINA/KIT AIRFIX 1:72 /Figura- KIT HASEGAWA HOBBY KITS 1:72 "US PILOT / GROUND CREW SET.
VEHICULO AML-90 PANHARD EJERCITO ARGENTINO/KIT ACE 1:72 (Made Ukraine).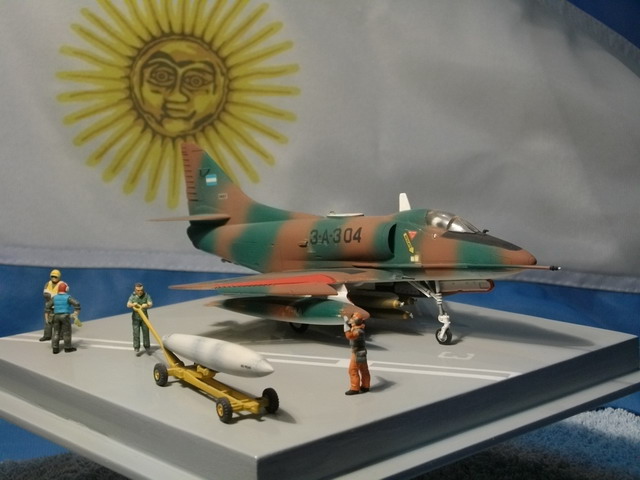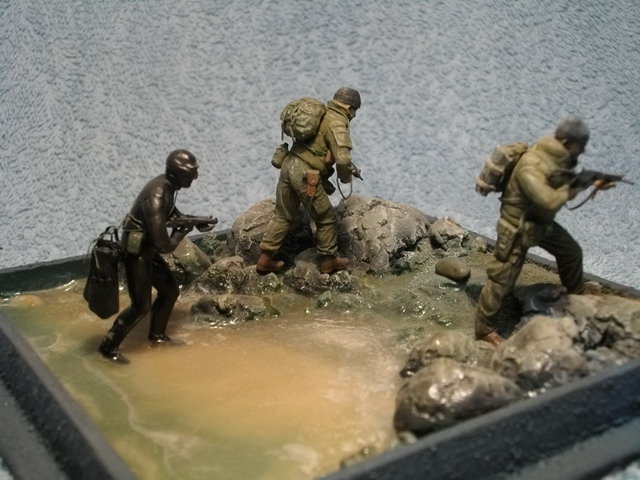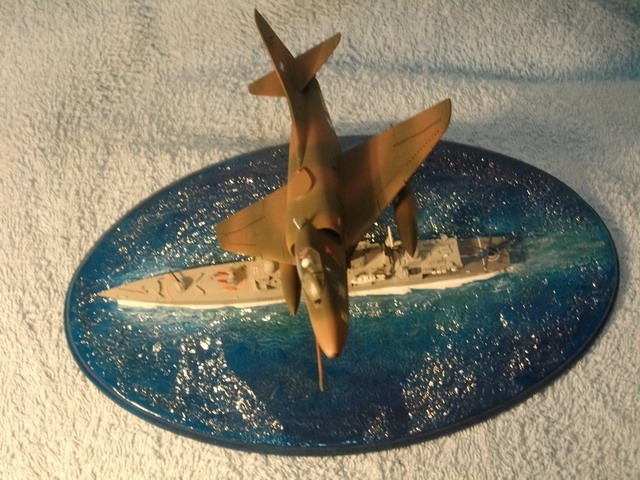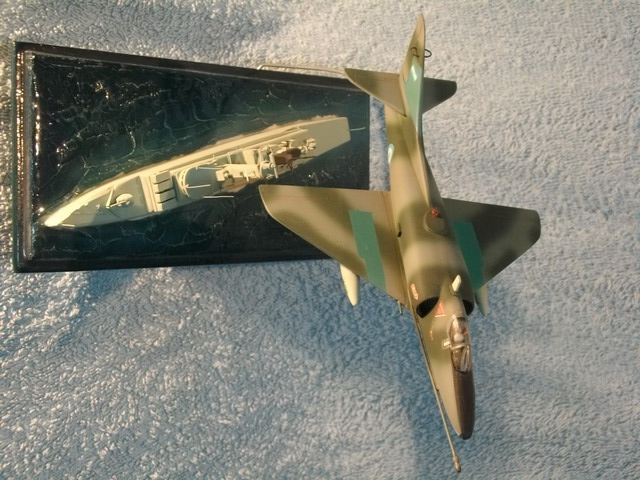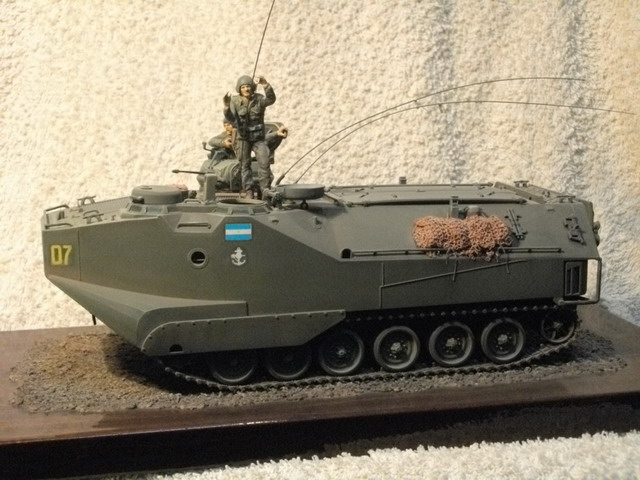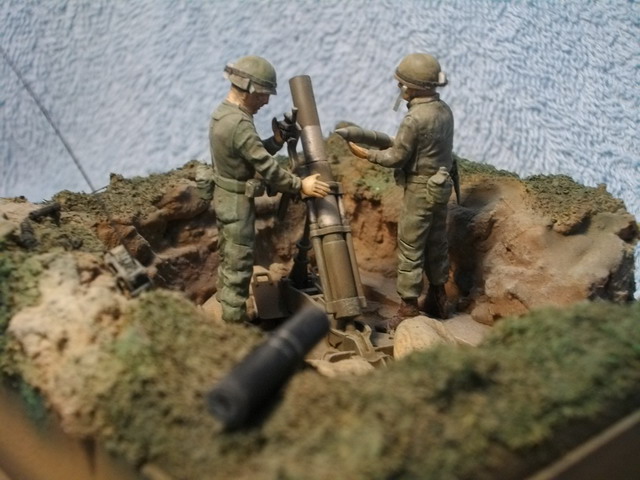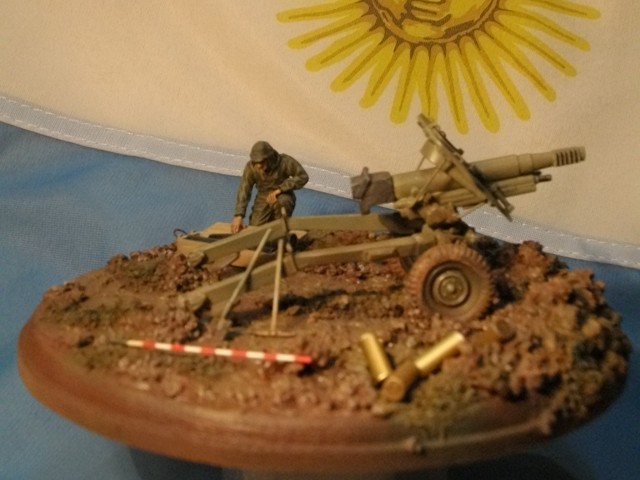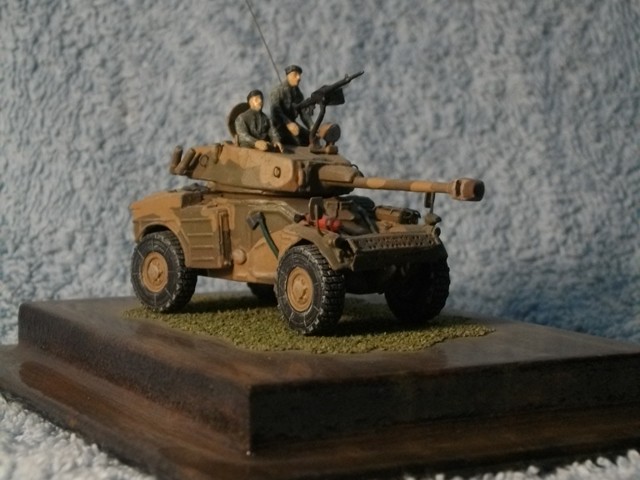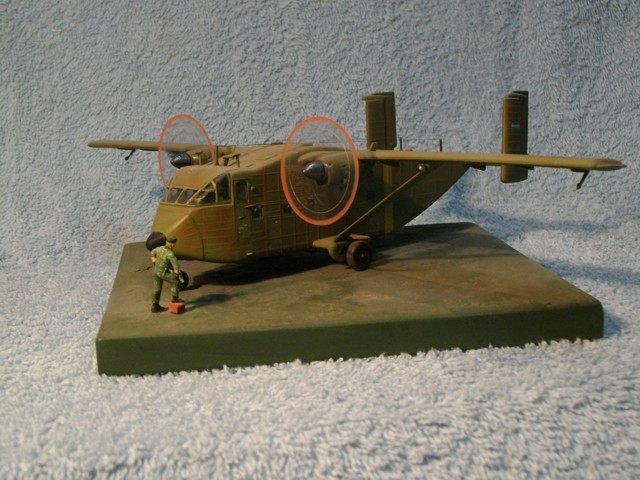 QUEEN ELIZABETH II
Este es otro modelo que integra el Museo de Guerra Malvinas Argentinas, se trata del Queen Elizabeth II nave de linea para pasajeros que en 1982 transportó tropas inglesas a Malvinas. Forma parte de la vitrina para buques integrantes de la Fuerza de Tareas Britanica.
This is another model that integrates the Museum, it's the Queen Elizabeth II, a passenger ship which transported British troops to the Falklands in 1982. The model is part of the British Task Force vessels showcase.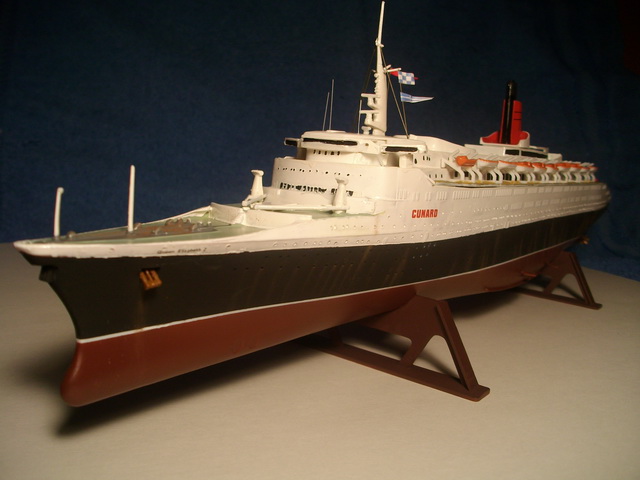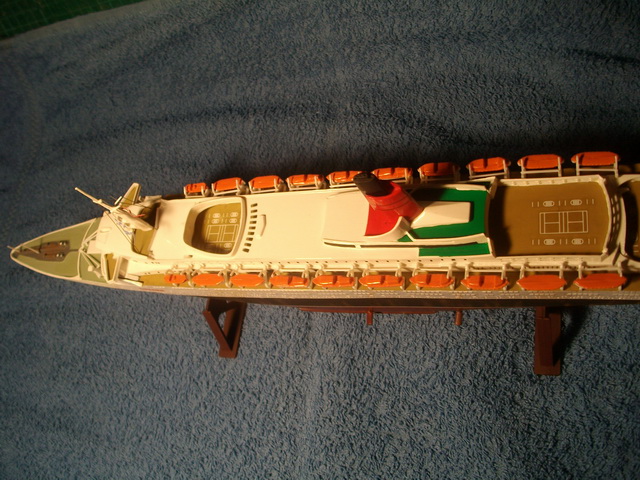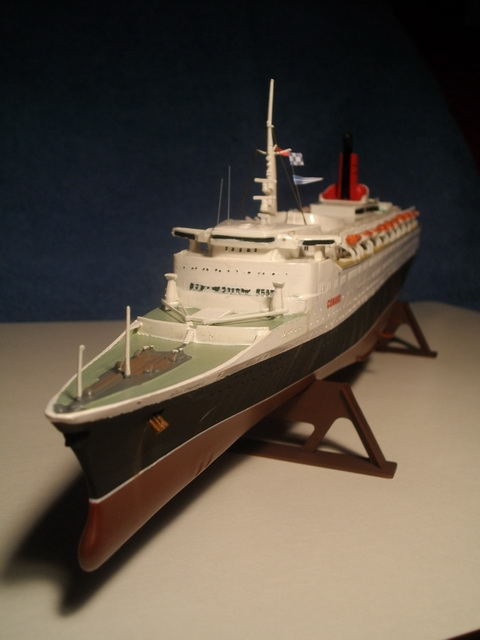 ARA SANTA FE - AFV Club - 1:350
A continuación vemos las fotos de su modelo del submarino clase Guppy, ARA Santa Fe, de la Armada Argentina, construido a partir del kit de AFV Club.
Here we see the photos of his model of the Guppy class submarine ARA Santa Fe, of the Argentine Navy, built from the AFV Club kit.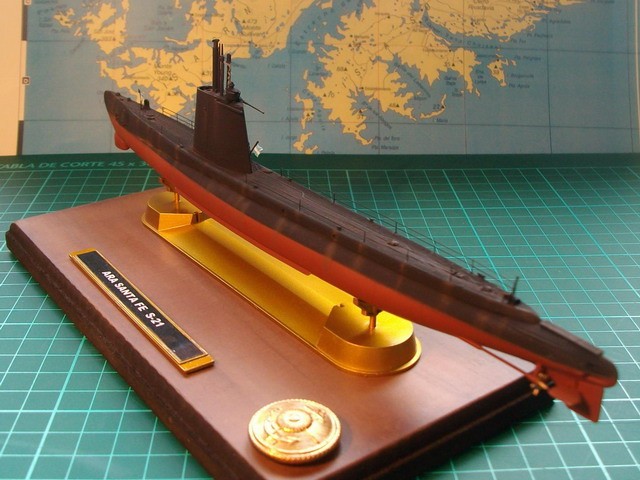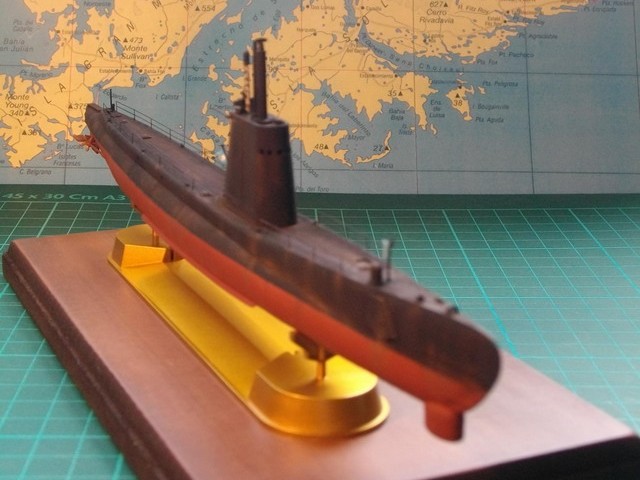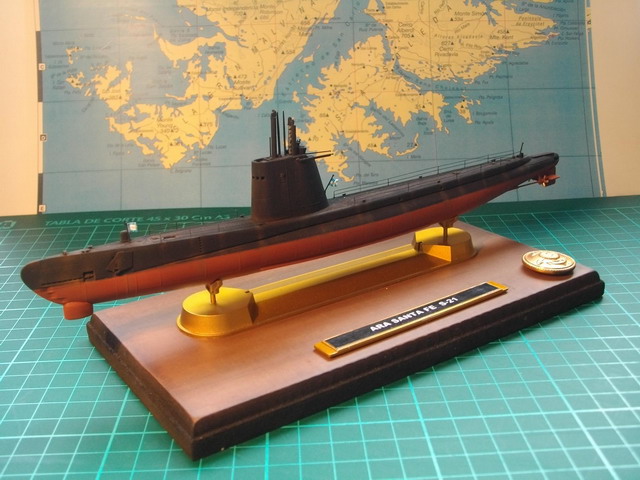 En las siguientes fotos podemos verlo a él y su "bunker".
In the following photos you can see him and his "bunker".