REVIEW E-100 AUSF B SUPER HEAVY PANZER
TRUMPETER - 1:35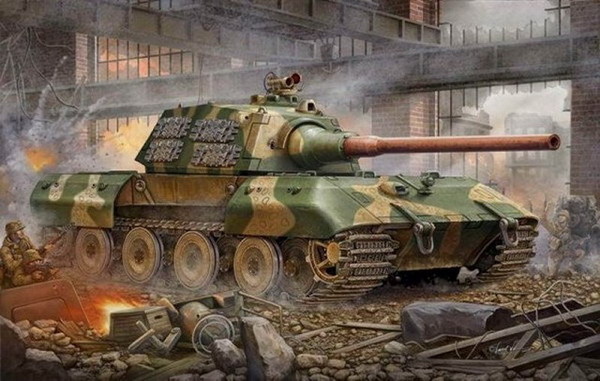 Kit Nro.: Trumpeter No. 0384 - E-100 Super Heavy Tank
Escala: 1:35
Contenido: 256 partes en plástico color gris; 2 orugas de goma; 1 plancha de fotograbados; 1 plancha de calcas.
Dimensiones: Largo: 326,52 mm.; Ancho: 127,77mm.; Alto: 107,53 mm.
El super pesado E-100 fue otro de los proyectos de blindados alemanes que sólo quedó en los papeles, lo que da al modelista la posibilidad de poder ir un poco más allá al momento de detallar el modelo. El kit de buena calidad y fácil montaje, ofrece un total de 256 piezas en seis árboles de plástico color gris, con el casco (parte inferior y superior) y la torreta moldeados en forma separada, más una plancha de fotograbados conteniendo las rejillas de ventilación del motor. Las orugas son de goma y el juego de calcas ofrece numerales rojos delineados en blanco y cuatro Balkenkreuz. Mientras dos de los árboles contienen los dos faldones, la parte inferior de la torreta, el cañón y otras diversas piezas, los otros cuatro están destinados a las ruedas y suspensión del tanque. En cuanto a las orugas, estas están bien logradas y son de un tamaño considerable, debido a las dimensiones del modelo. Las instrucciones de armado están divididas en 26 pasos y la guía de pintura ofrece dos opciones de camuflaje, con el cañon pintado con antióxido.
Kit Number: Trumpeter No. 0384 - E-100 Super Heavy Tank
Scale: 1:35
Contents: 256 gray plastic pieces; 2 vinyl tracks; 1 PE fret; 1 decal sheet.
Dimensions: Length: 326,52 mm.; Width: 127,77mm.; Height: 107,53 mm.
The E-100 Super Heavy tank was another unreleased German project, so gives to the modeller the opportunity to go further on model detailing. This good quality and easy assembly kit, offering a total of six sprues with 256 pieces molded on gray plastic, with separated hull and turret, plus a fret containing PE engine vents. Tracks are from vinyl and one decal sheet with numerals in red and white and four Balkenkreuz. While two of the sprues containing the skirts, the bottom of the turret, gun and several pieces, the other four are for the wheels and suspension. The tracks are successfully made ones and with a considerable size, due to the dimensions of the model. The assembly instructions are divided into 26 steps, and the painting guide offers two camouflage options, with the cannon painted in red primer.