JUNKERS F13/W34/K43/JU52
SERIE EN ARGENTINA Nro. 3
Jorge Nuñez Padín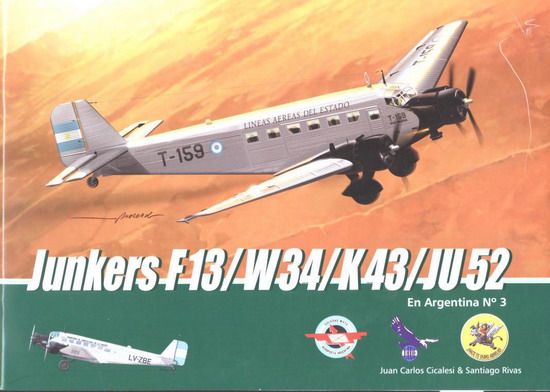 Acaba de salir otra excelente monografía editada por Jorge Nuñez Padín, esta vez dedicada a narrar la historia de varios modelos de aviones fabricados en Alemania por la famosa firma de Hugo Junkers.
Comenzando con el pequeño monomotor F-13, traído por los alemanes en 1924, y finalizando con el último vuelo de un Ju-52/3m en 1963, el relato abarca también a los poco conocidos monomotores W-34 y K-43. La monografía comprende a todos los aviones de estos modelos que volaron en Argentina, tanto en el ámbito civil como en el militar, ya que estos sirvieron con el Comando de Aviación del Ejército, la Aviación Naval, la Fuerza Aérea, la empresa Aeroposta Argentina y la Secretaría/Ministerio de Agricultura.
A lo largo de 40 páginas de excelente impresión y con gran cantidad de fotos, la mayoría inéditas,los autores J.C.Cicalesi y S.Rivas nos cuentan con gran detalle, la vida de esta "familia" de aviones, reconocibles todos por su característico revestimiento de metal corrugado.
No podemos dejar de destacar las ilustraciones de Javier Ruberto y Angel Bertogna, que aportan un importante toque de color, y nos permiten apreciar distintas configuraciones de los Ju-52 militares y de Aeroposta, un F-13 de la Aviación de Ejército y un F-13 civil configurado como hidroavión.
Sin dudas, un muy interesante trabajo, tanto para los amantes de nuestra historia aeronáutica como para los modelistas, ya que todos estos aviones están disponibles en maquetas, el Ju-52/3m en varias escalas y marcas, el F-13 de Revell en 1/72 y el W-34/K43 de MPM, tambien en 1/72.
Just another excellent monograph recently edited by Jorge Nuñez Padín, this time dedicated to telling the story of several models of aircraft produced in Germany by the famous firm of Hugo Junkers.
Starting with the small single-engine F-13, brought by the Germans in 1924, and ending with the last flight of a Ju-52/3m in 1963, the story also includes the little-known single-engine W-34 and K-43. The monograph includes all models of these aircraft were flown in Argentina, both for civil military use because they served with the Army Aviation Command, the Naval Aviation, Air Force, and the Aeroposta Argentina company and the Secretariate / Ministry of Agriculture.
Throughout 40 pages of excellent printing and with lots of photos, mostly unpublished, the authors J.C. Cicalesi and S. Rivas tell us in great detail, the life of this "family" of aircraft, all recognizable by their characteristic corrugated metal coating.
We can not fail to highlight the artwork of Javier Ruberto and Angel Bertogna, which provide an important touch of color, and show us various configurations of military and Aeroposta company Ju-52, an F-13 from the Army Aviation and a civil F-13 configured as a seaplane.
Without doubt, a very interesting work, both for fans of aviation history and modellers to, since all these aircraft are available in kits, the Ju-52/3m at various scales and markings, the F-13 from Revell in 1/72 and W-34/K43 of MPM, also in 1/72 scale.
Sergio Bellomo
El siguiente modelo corresponde al Junkers F-13 de Revell en 1:72, maqueta realizada por nuestro amigo Miguel Ludwig
The following Revell 1:72 Junkers F-13 were made by our friend Miguel Ludwig.