FMA IA-58 PUCARA
SERIE FUERZA AEREA Nro. 18
Ediciones Nuñez Padín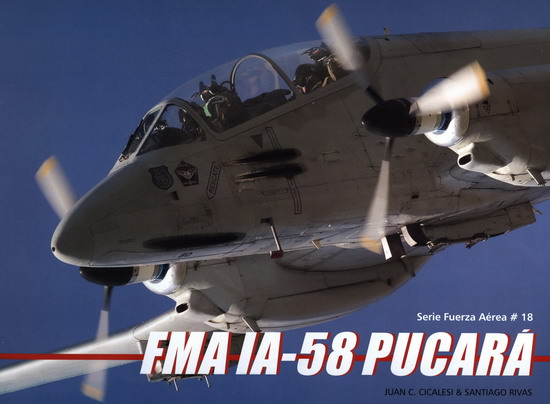 En agosto de 2010 Jorge Nuñez Padín ha editado este esperado trabajo del emblemático IA-58 Pucará, con autoría de Juan C. Cicalesi y Santiago Rivas.
En sus sesenta páginas de impresión de primera calidad, los autores nos relatan detalladamente la historia del Pucará, desde su proyecto hasta nuestros días, sin obviar por supuesto su destacada participación en el conflicto de Malvinas. A su vez no se descuida el aspecto técnico de esta aeronave, describiendo minuciosamente a lo largo de las páginas sus especificaciones. El trabajo cuenta también con un compendio de la historia individual de cada una de las unidades y el detalle de las exportaciones realizadas a lo largo de su historia.
Es de destacar el material fotográfico recopilado con imágenes en blanco y negro y color que acompañan todas las páginas del libro, sin obviar las impecables ilustraciones de Javier Ruberto, que nos acercan una importante cantidad de perfiles a todo color de muchas de las unidades que han prestado o prestan servicio en nuestro país y el extranjero.
Como conclusión podemos decir que se trata de una excelente publicación, ideal para el aficionado a la aviación o para el modelista, por la gran cantidad de material de referencia que aporta.
In August 2010 Jorge Nuñez Padin has published this long-awaited monograph referred to the emblematic IA-58 Pucara, authored by Juan C. Cicalesi and Santiago Rivas.
In its sixty pages of high quality printing, the authors tell us in detail the history of the Pucara, from its project until today, without forgetting of course its outstanding performance in the Malvinas conflict. At the same time is not overlooked the technical side of the aircraft, describing in minute detail its specifications over the pages. The work also has a collection of individual history of each of the units and the details of exports throughout its history.
Noteworthy is the photographic material colectate with black and white and color images that accompany each page of the book, without forgetting the impeccable illustrations by Javier Ruberto, that bring us a significant amount of full color profiles of many of the units serving in our country and abroad.
In conclusion we can say that this is an excellent publication, ideal for the aviation enthusiast or for the modeler, because the large amount of reference material that it provides.
Sergio Bellomo