REVIEW FOCKE-WULF 1000 FAST BOMBER
MODELCOLLECT FIST OF WAR - 1:48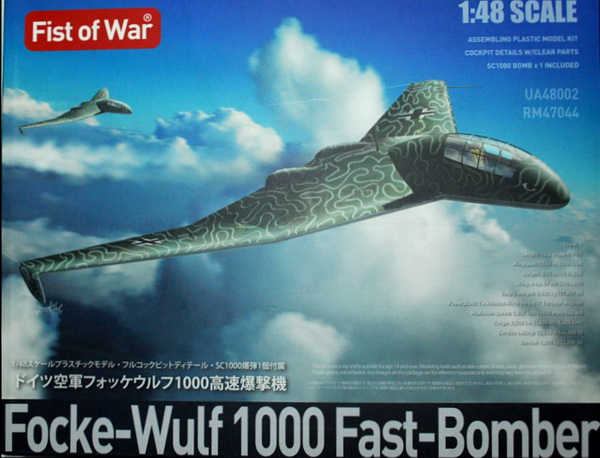 "Modelcollect: Una obra maestra en maquetas de la línea Fist of War"
Kit Nro.: UA 48002 - RM 47044
Escala: 1:48
Contenido: 3 árboles de piezas y 2 mitades del fuselaje inyectado en plástico color gris; 1 árbol de piezas en transparente; 1 plancha de calcas.

El mundo de las maquetas se enriquece con la llegada de la última producción de Modelcollect, el Focke-Wulf 1000 Fast-Bomber en escala 1/48 de su línea Fist of War. Esta imponente maqueta ha sido enviada por los amigos de Modelcollect y nos ha dejado impresionados con su calidad y atención al detalle.
Desde el primer vistazo, es evidente que estamos frente a un producto de calidad. La caja ha sido diseñada para ajustarse perfectamente al tamaño de los árboles, evitando así cualquier daño durante el transporte. Cada árbol está protegido individualmente con su propio folio de celofán, garantizando que las piezas lleguen en perfectas condiciones.
Al abrir la caja, nos encontramos con las instrucciones de montaje, las cuales son sorprendentemente fáciles de leer y comprender. Esto agiliza considerablemente el proceso de ensamblaje. Además, las instrucciones incluyen gráficos a todo color para la pintura y las calcas, utilizando el sistema RLM de identificación de colores utilizado por los alemanes en esa época.
Cabe destacar que estos esquemas de pintura no son obligatorios, ya que el Focke-Wulf 1000 Fast-Bomber fue solo un proyecto y ninguna unidad fue construida. Esto nos brinda total libertad para experimentar con diferentes camuflajes y combinaciones de insignias.
La lámina de calcas incluida en la maqueta es muy variada, lo que nos permite realizar distintas combinaciones, como mencionamos anteriormente. Las piezas están inyectadas con una precisión sorprendente, presentando un panelado negativo característico de las maquetas de última generación. Además, el color gris medio de las piezas facilita el montaje al permitirnos apreciar claramente los volúmenes de los objetos a ensamblar.
Los detalles de esta maqueta son notables, reflejando el esfuerzo y la dedicación que Modelcollect ha invertido en este proyecto. Es un verdadero placer trabajar con una maqueta de tan alta calidad.
Queremos expresar nuestro agradecimiento a los amigos de Modelcollect por habernos enviado esta magnífica maqueta, la cual estaremos entregando como premio en nuestro próximo concurso que se llevará a cabo los días 19 y 20 de agosto de 2023 en Mar del Plata.
Con la llegada del Focke-Wulf 1000 Fast-Bomber de Modelcollect, los aficionados a las maquetas tienen la oportunidad de disfrutar de una obra maestra que destaca por su calidad, atención al detalle y la posibilidad de explorar diferentes opciones creativas. Sin duda, esta maqueta se convertirá en una joya en la colección de cualquier entusiasta de la historia de la aviación.
"Modelcollect: A masterpiece of models from the Fist of War line"
Kit Number: UA 48002 - RM 47044
Scale: 1:48
Contents: 3 sprues with pieces and 2 halves of the fuselage injected in gray plastic; 1 transparent sprue; 1 decal sheet.

The world of models is enriched with the arrival of the latest Modelcollect production, the Focke-Wulf 1000 Fast-Bomber in 1/48 scale from their Fist of War line. This impressive model has been sent by the friends of Modelcollect and has impressed us with its quality and attention to detail.
From the first glance, it is clear that we are dealing with a quality product. The box has been designed to perfectly fit the size of the sprues, thus avoiding any damage during transport. Each sprue is individually protected with its own cellophane foil, ensuring that the pieces arrive in perfect condition.
Opening the box, we find the assembly instructions, which are surprisingly easy to read and understand. This considerably speeds up the assembly process. In addition, the instructions include full color graphics for the paint and decals, using the RLM color identification system used by the Germans at the time.
It should be noted that these paint schemes are not mandatory, as the Focke-Wulf 1000 Fast-Bomber was just a project and no units were built. This gives us complete freedom to experiment with different camouflages and badge combinations.
The sheet of decals included in the model is very varied, which allows us to make different combinations, as mentioned above. The pieces are injected with surprising precision, presenting a negative paneling characteristic of the latest generation models. In addition, the medium gray color of the pieces facilitates assembly by allowing us to clearly appreciate the volumes of the objects to be assembled.
The details of this model are remarkable, reflecting the effort and dedication that Modelcollect has invested in this project. It is a real pleasure to work with such a high quality kit.
We want to express our gratitude to the friends of Modelcollect for having sent us this magnificent model, which we will be awarding as a prize in our next contest that will take place on August 19 and 20, 2023 in Mar del Plata.
With the arrival of the Focke-Wulf 1000 Fast-Bomber from Modelcollect, model enthusiasts have the opportunity to enjoy a masterpiece that stands out for its quality, attention to detail and the possibility to explore different creative options. This model is sure to become a jewel in the collection of any aviation history enthusiast.
Diego Martínez
Fotografías / Photographs: Alejandro Forcada