REVIEW F6F-3 HELLCAT EARLY VERSION
HOBBY BOSS - 1:48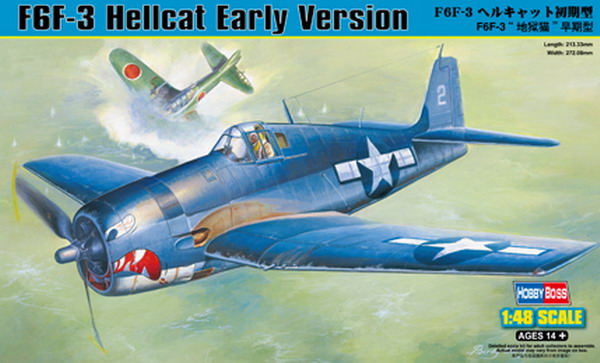 Kit Nro.: Hobby Boss 80338 - F6F-3 Hellcat Early Version
Escala: 1:48
Contenido: 111 partes en plástico color gris; 1 plancha de calcas
Dimensiones: Largo: 213,33mm.; Ancho: 272,08mm.
El Grumman F6F Hellcat era un caza embarcado en portaviones, desarrollado para reemplazar a su antecesor F4F Wildcat en servicio de la Marina de los Estados Unidos. Fue un diseño completamente nuevo impulsado por un motor radial Pratt & Whitney R-2800-10W "Double Wasp" de 2000 HP. El Hellcat fue el primer caza de la Marina para cuyo diseño se tuvo en cuenta la experiencia de combate con el Zero japonés. El Hellcat demostró ser el avión más exitoso en la historia naval, derribando de 5.271 aviones, mientras permaneció en servicio con la Marina y la Infantería de Marina de EE.UU.
El kit de Hobby Boss, de producción 2009, constituye una alternativa interesante a los ofrecidos por Hasegawa y Eduard, otorgando la posibilidad de montarlo con sus alas plegadas. El modelo está compuesto por más de 100 piezas de plástico gris de buena calidad de inyección. Asimismo, los planos de armado se encuentran bien detallados en una sola lámina plegable y la guía de pintura ofrece dos opciones para representar este modelo, con referencias a los colores de Gunze Sangyo, Vallejo, Tamiya, Humbrol y Modelmaster.
Kit Number: Hobby Boss 80338 - F6F-3 Hellcat Early Version
Scale: 1:48
Contents: 111 gray plastic pieces; 1 decal sheet.
Dimensions: Length: 213,33mm.; Wide: 272,08mm.
The Grumman F6F Hellcat was a carrier-based fighter aircraft developed to replace the earlier F 4F Wildcat in United States Navy service. It was a completely new design powered by a 2,000 hp Pratt & Whitney R-2800. The Hellcat was the first Navy fighter for which the design took into account lessons from combat with the Japanese Zero. The Hellcat proved to be the most successful aircraft in naval history, destroying 5,271 aircraft while in service with the U.S. Navy and U.S. Marine Corps.
The Hobby Boss kit, an 2009 production, is an interesting alternative to those offered by Hasegawa and Eduard, giving the opportunity to build the model with folded wings. The same one consists of more than 100 pieces of gray plastic. Also, assembly drawings are well detailed in a single blade folding and painting guide offers two options, with reference to Gunze Sangyo, Vallejo, Tamiya, Humbrol and Modelmaster colors.