REVIEW VEHICULO TACTICO BLINDADO M1114
Review M1114 Up-armored Tactical Vehicle
BRONCO MODELS - 1:35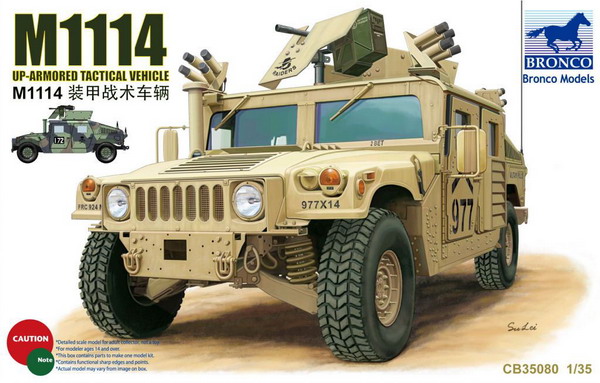 Kit Nro.: Bronco Models No. 35080 - M-1114 Up-armored tactical vehicle
Escala: 1:35
Contenido: 233 partes en plástico color beige; 13 transparentes; 1 plancha de fotograbados; 1 plancha de calcas
El kit consiste en 233 piezas en plástico beige claro, 13 en plástico transparente, 74 piezas en fotograbado y una hoja de calcas.
La inyección de las piezas plásticas es de alta calidad, así como un altísimo nivel de detalle, no encontrando rebabas y sólo algunas marcas de inyección de fácil eliminación o que quedan ocultas tras el montaje.
Todas las rejillas de ventilación se representan abiertas y se complementan con fotograbados, el armamento principal consiste en un muy bien detallado M2 HBMG de calibre .50 o la opción de un lanzagranadas Mk19 y el armamento adicional consiste en un AT4 de 84 mm, una carabina M4 con lanzagrandas M203 y una carabina M4 y cajas de municiones para la Mk19, M2 y M4S.
Las instrucciones de armado en 18 páginas son dignas de comentario, ya que constituyen una mejora sobre las anteriores instrucciones de los kits de Bronco. Está impresa a todo color, no sólo la guía de pintura sino que cada parte con su color correspondiente. Por ejemplo, el escape se ha impreso en un color óxido, los asientos en un color caqui, el radiador y las llantas en negro, el interior de la de las escotillas y las cajas de munición en verde, con indicaciones de pintura para Hobby Color, Humbrol, Mr.Hobby y Tamiya.
Las cuatro verisones de armado se detallan en ilustraciones a todo color de los vehículos indicando la ubicación exacta de todas las calcas.
Kit Number: Bronco Models No. 35080 - M-1114 Up-armored tactical vehicle
Scale: 1:35
Contents: 233 beige plastic pieces; 13 clear plastic pieces; 1 PE fret; 1 decal sheet
The kit consists of 233 parts in light beige plastic, 13 in clear plastic, 74 etched parts and a decal sheet. We can find a high quality moulding and a high level of detail.
All the air vents are open and are complemented by PE parts, the main armament is a very detailed M2 .50cal HBMG or a Mk19 Grenade Launcher and additional armament consists of a AT4 84-mm unguided AT Weapon, M4 Carbine w/M203 Grenade Launcher and M4 Carbine plus a selection of ammo boxes for the Mk19, M2 and M4s.
Assembly instructions on 18 pages are worthy of comment, since they are an improvement over previous Bronco kits instructions. It is printed in full color, not only painting guide, but each part with its corresponding color. For example, the exhaust is printed in a rust color, seats in a khaki color, radiator and tires in black, inside the hatch and ammunition boxes in green, with references to Hobby Color Paint, Humbrol, Tamiya and Mr.Hobby.
The four assembly versions are detailed in full color illustrations of the vehicles indicating the exact location of all the decals.