REVIEW U.S. M38A1C W/ M40A1 106 mm.
AFV CLUB - 1:35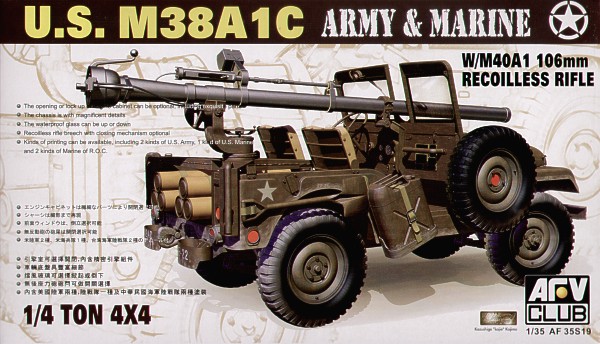 Kit Nro.: AFV Club AF35S19 - U.S. M38A1C W/ M40A1 106 mm. RECOILLESS RIFLE
Escala: 1:35
Contenido: 95 partes en plástico color gris; 1 plancha de calcas
Como primera impresión podemos hablar de un kit de buena calidad. Esta reedición del kit de Skybow, contiene cinco árboles con 162 piezas moldeadas en verde oliva, más cinco transparentes. El modelo posee un buen nivel de detalle en cuanto a los trenes delantero y trasero, la suspensión y motor, cuya capota puede ser representada abierta o cerrada. Además del rifle sin retroceso incluye los tubos de munición de repuesto, calibre .50 y un detallado trípode M79 que puede realizarse montado en tierra. Las calcomanías incluyen opciones para dos versiones del Ejército Americano, y otra de los Marines, también los detalles del tablero están incluidos. La guía de armado es clara y detallada.
Kit Number: AFV Club AF35S19 - U.S. M38A1C W/ M40A1 106 mm. RECOILLESS RIFLE
Scale: 1:35
Contents: 162 olivge drab plastic pieces; 5 clear pieces; 1 decal sheet
As a first impression we can speak of a good quality kit. This reissue of an old Skybow kit contains five sprues with 162 pieces molded in olive green, plus three clear parts. The model has a good well-detail drive train, suspension, and engine whose hood can be represented as open or closed. In addition to the recoilless rifle, includes .50 caliber ammunition spare tubes, and detailed M79 tripod that can be represented as ground mounted. The decals include options for two versions of the American Army, and one for the Marines, also the details of the dashboard are included. The assembly guide is clear and detailed.