REVIEW U-BOAT TYPE VII C
REVELL - 1:144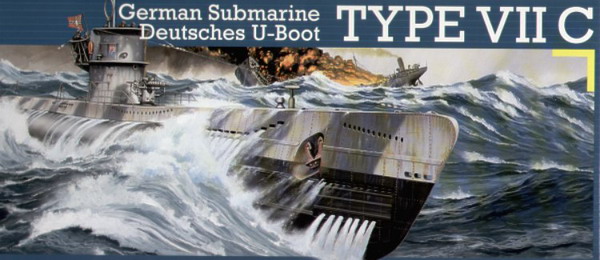 Kit Nro.: REVELL 05038 - GERMAN SUBMARINE/DEUTSCHES U-BOOT TYPE VIIC
Escala: 1:144
Contenido: 95 partes en plástico color gris; 1 plancha de calcas
Dimensiones: Largo: 46,5 cm.; Alto: 7,2 cm. (sin periscopios); Ancho: 4,3 cm.
En esta ocasión revisamos este kit de Revell editado en 2007 y de muy buena calidad en general. Es un producto de muy buena factura al igual que sus predecesores en escala 1:72 y decididamente superior a los antiguos kits de esta misma marca en escala 1:125. La maqueta fue lanzada al mercado juntamente con la versión minadora -Tipo VII D- (Kit Nº 05009). En cuanto al modelo en sí, podemos observar piezas muy bien detalladas en su totalidad, siendo que es posible armarla directamente de caja y casi sin necesidad de agregar productos de aftermarket y lograr de todas formas un vistoso modelo. A eso sumamos que su montaje es relativamente sencillo, lo que le hace una maqueta accesible a modelistas menos experimentados. En cuanto a las versiones posibles de representar, el kit ofrece piezas para realizar tanto los primeros sumergibles del tipo VII C, como también los de producción tardía. Los planos de armado se encuentran bien detallados en 35 pasos contenidos en el manual de 12 páginas. Asimismo, las instrucciones de pintura ofrecen la posibilidad de representar a las unidades U-96, U-201, U-204, U-251, U-617, como así también un modelo básico, todas acompañadas por sus respectivas calcas. Como contra encontramos algunas piezas fuera de escala, como las barandillas de la torre y algunos errores como la ubicación de las compuertas de los tubos lanzatorpedos de proa y del ancla, aunque ello no implica un mayor detrimento en el kit. Podemos concluir afirmando que en líneas generales se trata de un muy buen producto, a excepción de los pequeños defectos señalados, apto tanto para el modelista novato como para el más experimentado, pudiendo lograrse un interesante modelo una vez montado.
Kit Number: REVELL 05100 - GERMAN SUBMARINE/DEUTSCHES U-BOOT TYPE VIIC/41
Scale: 1:144
Contents: 95 gray plastic pieces; 1 decal sheet.
Dimensions: Length: 46,5 cm.; Height: 7,2 cm. (without periscopes); Width: 4,3 cm.
This time we review this very good quality kit by Revell, released in 2007. It is a very well made product like their predecessors in 1:72 scale and decidedly superior to the old 1:125 kits. The model was released at the same time that the Type VII D Minelayer (Kit No. 05009). As for the model itself, we can see very detailed parts in its entirety, and is possible to assemble it out of the box and almost no need to add aftermarket products but anyway achieving an attractive model. Moreover, its assembly is relatively simple, making it a model accessible to less experienced modelers. As for the possible versions to represent, the kit provides parts for both the early and late production Type VII C U-boats. The assembly drawings are well detailed in 35 steps in the manual of 12 pages. Also, the painting instructions offer the possibility to represent the units U-96, U-201, U-204, U-251, U-617, as well as a basic model, all accompanied by their respective decals. On the negative side we found some pieces out of scale, as the rails of the tower and some errors as the location of the gates of the bow torpedo tubes and anchor, but that does not mean a greater expense in the kit. We can conclude that overall it is a very good product, except for small defects indicated, suitable for both the novice modeler to the most experienced, an interesting model can be achieved when fitted.
Santiago Ezcurra