REVIEW U-BOAT TYPE VII C/41
REVELL - 1:144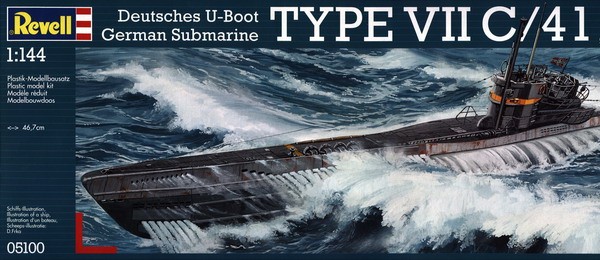 Kit Nro.: REVELL 05100 - GERMAN SUBMARINE/DEUTSCHES U-BOOT TYPE VIIC/41
Escala: 1:144
Contenido: 107 partes en plástico color gris; 1 plancha de calcas
Dimensiones: Largo: 46,7 cm.; Alto: 7,2 cm. (sin periscopios); Ancho: 4,3 cm.
Al igual que en su momento hicimos con el kit del U-boot tipo VIIC, ahora les presentamos esta revisión al kit de la "Versión Atlántica", el VIIC/41. Tal como el anterior este un producto de muy buena calidad. La maqueta fue lanzada al mercado algo después de los modelos del VIIC y el Tipo VIID. Nuevamente Revell nos presenta una maqueta con piezas excelentemente detalladas que hacen casi innecesario la utilización de otros productos como fotograbados o piezas en resina, a excepción de aquellos modelistas que quieran ir un poco más allá en su armado. Como sus antecesores, es un kit de montaje sencillo, ideal para todo tipo de modelistas. La "Versión Atlántica" fue equipada con una versión modificada de la torre, más grande, llamado "Large Wintergarten", armado con dos antiaereas de 20 mm y un cañón de 37 mm M42U; un snorkel levadizo (también leva sobre su eje en el kit) para el aire fresco y escape de gases; cuatro compartimentos de presión con balsas para cinco hombres; y la cubierta revestida en madera. Todo precisamente detallado en el kit, así como la proa atlántica. Las instrucciones de ensamblado están bien explicadas y la guía de pintura ofrece la posibilidad de representar a las unidades U-292, U-318, U-998 y U-1004, con sus respectivas calcas. Nuevamente, como contra, vemos algunas piezas fuera de escala, como las barandillas de la torre y algunos errores menores, pero de todas formas sigue siendo un muy recomendable kit.
Kit Number: REVELL 05100 - GERMAN SUBMARINE/DEUTSCHES U-BOOT TYPE VIIC/41
Scale: 1:144
Contents: 107 gray plastic pieces; 1 decal sheet
Dimensions: Length: 46,7 cm.; Height: 7,2 cm. (without periscopes); Width: 4,3 cm.
As we did with the type VIIC kit, now we present this review on the "Atlantic version" VIIC/41. Like the other one this is a product of a very good quality. The model was released sometime after Type VIIC and VIID. Revell again presents us a superbly detailed model that make it almost unnecessary to use other products such as photo-etched or resin parts, except for those modelers who want to go a little further into the assembly. Like its predecessors, is a simple mounting kit, ideal for all types of modelers. The "Atlantic Version" was equipped with a modified version of the bridge, largest, called "Large Wintergarten", armed with two 20 mm anti-aircraft guns and a 37 mm M42U, a snorkel for fresh air and exhaust, four pressure compartments for five men rafts, and the wooden deck. All this precisely detailed in the kit, as well as the atlantic bow. The assembly instructions are well explained and painting guide offers the possibility to represent the units U-292, U-318, U-998 and U-1004, with their decals. Again, in contrast, we see some parts out of scale, as the rails of the tower and some minor erros, but still remains a highly recommended kit.
Santiago Ezcurra